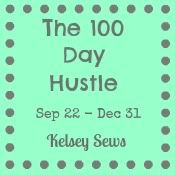 I'm doing it. I'm joining the hustle.
Here's my goals in no real order and potentially conflicting.
My husband is making me a big 'ol sewing table for my birthday (it's a big one, I'll officially be starting the end of young) and I am setting the goal of achieving organization. A place for everything and all that.
I need to get at least the top done on my youngest's twin sized quilt. Otherwise he will be scarred for life.
My in-laws are Christmasing us in quite a big way this year and I wanna make them a quilt. (it's like a disease, the "i should make them a quilt" fever is getting stronger every year; i suppose it will get me in the end when i'm buried under an avalanche of gift quilts.)
And I need to make my daughter's dresses before the daily asking makes me crazed.